First post of don's blog.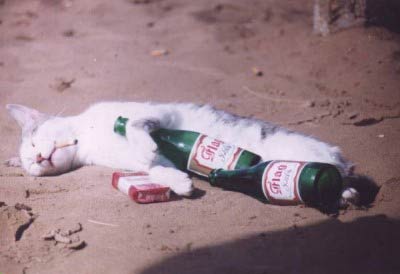 Just got back from Bobby Ore Stunt Car Driving School, Level 1. Bobby had the flu, so we (me and the two other students, Dave the Dr from Atlanta, and Ed, Special Forces, from Boston) were instructed by Lisa (the first day, student stunt driver, car nut from LA; she was a bit short - but from my height at 6'2", most women are - and still she drove a Viper, normally - she said she had some trouble fully engaging the clutch, also had a couple of vintage Corvettes - all this enabled by her advertising executive husband), Gail (the second day, Amy's business partner - Bobby told me she was formerly a Major, and in the Miami-Dade police department), Amy (in business with Gail, maybe called Light, Camera, Action - although that also may be the name of the stunt driving show she's in sometimes at MGM in Orlando - their business is making commercials, short films, etc involving car stunts - she said she was in Too Fast, Too Furious - I think - I don't remember exactly, there wasn't any time for socializing - but I did anyway, of course), and Gary (also chief mechanic, really, the only mechanic, a former car dealer service employee from LA, who hooked up with Bobby out there). Also met Roslyn, Bobby's wife, and their 2 kids (forget their names, the boy was TJ or CJ maybe, the girl's name I heard once in passing); they were there hanging out in Bobby's motorhome the first day, before taking Lisa to the airport so she could fly home - she had just helped Bobby drive across the country.

Day one: First we got a lecture from Bobby about tires. His principal point was that tires are always seriously underinflated. He recommends adding 5 psi to the maximum rated psi for the tire, and running them that way. He says that this will minimize heating, and so increase the life of the tire. This is basically the only thing from the course that will transfer (possibly) favorably to car racing; everything else was familar (from a car racing standpoint), but counter - I'll explain as we get to each point. This was the only classroom time for the 2 days; everything else was at the practice area, some unused runway/taxiways at Sebring Airport.

Out to the airport - first skill is shuffle steering; this is a method of steering that I have learned from some of the race schools I've been to - see other blog for the list - notable Skip Barber. However, there are BIG differences between Bobby's method and the racing method. First and foremost, Bobby's method requires letting go of the wheel, to allow it to return itself to a neutral position; in racing, you never let that happen. Also, Bobby recommends (and when I say Bobby, I mean his instructors, since he was too sick to instruct) that you hold the wheel very lightly, with 2 or 3 fingers to start, to train yourself not to employ a death grip; and not to hook your thumb (or fingers) around the wheel, because this can result in broken or dislocated digits. Similar to racing instruction, although the caution about hooking your thumb is to prevent a shoulder dislocation when you smack something hard head-on in a crash - which will happen, if you race cars. However, I doubt that you'll want to hold the wheel that loosely (2 or 3 fingers) when racing. In shuffle steering, your arms never cross, especially important if your airbag goes off in a crash, because you'll definitely break something otherwise. The left hand stays on the left side of the wheel, the right hand stays on the right side. The starting position is at 8 and 4. The 10 and 2 position taught in driver's ed is a holdover from when there was no power steering, requiring one to pull down on the wheel to get it to turn; also there was a lot more bump steering going on in days of yore, because there were a lot more bumps. From 8 and 4, initiate turns by raising (while gripping the wheel) the appropriate hand; follow that hand's motion WITH THE OTHER HAND (obviously, not holding the wheel with that hand). If you need to turn more, grip the wheel with the other hand (now near the 12 position) and pull down to that side, again following that hand's motion WITH THE OTHER HAND. When you want to turn back, just let go of the wheel; it will turn back by itself. So we did a slalom around cones to practice shuffle steering. Normally a class is 6 to 9 students. Since there were just 3 of us, we each usually had our own car (Ford Escort) and didn't have to share. The good part was that we got a lot more practice. That was the bad part too; I haven't been this sore since the last time I smacked a guardrail (racing) at 80 mph. Another skill they started us practicing was to look towards our next goal (focal point). We were slaloming up around 4 or 5 cones, across the runway, and then back around another line of cones. Once we had turned for the second-to-last cone, we were told to look over at the first cone of the next line, and just look at that (head turned in that direction, not the direction the car was going). This is similar to a skill taught in car racing, but also quite different, as I'll explain later.

After a bunch of steering practice, we learned the 180* (degree) slide. They set up a gate with 2 cones. You drive towards one side of the cones, about 1.5 car widths away, get up to 20-25 mph (in L gear; all the stunt driving school was in L gear, except the part in R!), at about 2-3 car lengths away from the line of the cones (gate), initiate the slide by pulling (sharply) on the E brake. When the nose of the car breaks the line of the gate, steer marginally in that direction, and hold that steering. They had us turn the wheel, in terms of wheel hours (ie 10 and 2; 8 and 4) 2 hours; but they also demonstrated that much less was sufficient. The car will rotate around 180* and stop right at the gate. The car rotates in 2 "steps", so it's common to try to help it after the first "step", by turning the wheel more, because it doesn't seem like it's going to rotate enough. But you have to be patient, it will get there by itself, and then they won't yell at you. Which they did a lot; but that was better than the second day, when they started firing blanks and throwing firecrackers when you screwed up. (I got punched in the leg a couple of times too; Amy was riding next to me and didn't like what my right leg was doing - day 2, I'll explain later). So this was all they taught us the first day, not that it wasn't enough. The day started at 7:30 AM, we had 90 minutes for lunch, and we left at 5 PM.

Day 2 - Start at 8 AM, with the same routine we did twice the first day, in the morning and after lunch, which was check the fluids in the cars, and the tire pressures, and also whether we needed new tires. As you can imagine, with constant sliding of the cars by applying the E brake, we went thru tires. Each morning we also drove the cars around slowly - 20-25 mph, a good time to get the feel for that speed, because you can't watch the speedometer while you're approaching a stunt - to warm up the engines. Then practice of yesterday's routine, which became one line of slaloming cones, followed by a 180* into a gate just past the end of the cones, but off at an angle, so you were already lined up for it after turning for your last slalom cone, followed by another gate, about 2/3 of the way back to the beginning, for a second 180*. It was very important that as soon as you had completed the necessary body input for the current stunt, that you turn your head and look at the "focal point" (a cone) for the next stunt. Not when your first slide was done, but as soon as you initiated it. Now, since the next gate was basically behind you, you just turned your head to the side 90*, so you could pick up with your eyes the next focal point cone as the car came around. So we practiced this routine for a while, and then it was on to the next stunt, the 90* box turn.

This is a 90* slide into a box, defined by 4 cones. It's a parking space. At the back of the box, in the center, is a fifth cone, which is the focal point cone. During the entire maneuver, even while you're sliding, you need to be looking at that cone. So you end up parked next to it, with your head turned 90*. Now this is something you would never do in car racing. And it's the epitome of the entire difference, with respect to the focal points, between stunt driving and racing. Granted, that in racing, you want to turn your head towards the apex of the corner you're about to turn into; you don't want to keep looking at it until you're next to it. Neither do you want to be looking for the turn-in for the next corner, as opposed to stunt driving where, once you've made the turn, you look ahead to the next stunt. So, for the 90* box turn, you drive towards the end of the box, the outside of your car (which side depends on which way you're going to slide into the box) along a line defined by the 2 cones at one end of the box. Initiate the slide and the turn as before, in the 180* turn, although at slightly lower speed. But in this case, when you're about at 45*, let go of the steering wheel! You should end up in the box; then you use the main brake to keep from sliding further.

The final stunt they taught us was the 180* reverse turn. This was the only really scary stunt (at first) but it was also the most fun.You put the car in reverse (R) and back up, in a straight line, toward a focal point cone 100 feet away (well beyond where you're going to complete the stunt). Watch the cone in your rear view mirror. Then whip the wheel around in the appropriate direction, turning your head to pick up the cone as you come around; shift into L as soon as you're past 90*; and catch the wheel once you're thru the 180*. Amy had me floor it in reverse to get up to speed; although it didn't take much, it was the first time I had floored a car looking in the rear view mirror. And it was during this stunt that Amy was pummeling my right leg, because I kept slamming on the main brake halfway thru the stunt, and that CAN flip the car! Why was I slamming on the brake? I think it's because of race training - start to spin, both feet in. I know that my left leg is very sore today, probably because I was not only bracing myself with it by pushing myself back against the seat, but also pushing in the imaginary clutch. My right leg is not sore.

The final routine was to do all the stunts in a row, in less than a minute (which was plenty of time - the most any of us took was 51 seconds). This was a slalom of 4 cones, a slide of 180* (to the right), another slide of 180* (to the left), a box turn to the right, pull up, a reverse 180* halfway to the final box turn to the left.

There was, for each stunt, a sequence of physical inputs which had to be done at the right time. Steering, looking, gas, E brake, main brake, shifter. This was really hard, and I think that the less experience one has at driving on the street (and the track), the easier this would be to learn. Apparently, looking at the focal point was the most important skill, because even though Dave passed the final test, he failed the course, and even though Ed failed the final test, he passed the course. Dave wasn't looking, and Ed (allegedly) was. I wasn't looking enough either, and I failed the final test as well.

This fact of Dave failing and Ed passing also pointed out the unequitable treatment of the participants by Bobby. Ed was young and in the military, and the training will probably be crucial for carrying out missions in Iraq. Dave and I were there for the hell of it, and older, and not in the military (or law enforcement) and also not good ol' boys.

I would not recommend this course to most race car drivers; the skiills you need to develop are counter to many racing skills. Also, Bobby didn't respect my race car training, seeming to mock it at times. However, women racers would probably have a better time. I definitely would recommend it to anyone who wants a career in stunt car driving. Also, Bobby plans to start a drifting school soon, but it would probably require that you pass this course first, so it would be counter-productive for current racers to take it.

Racing Schools
Skip Barber Racing School
: Lime Rock, CT 1986 Sebring, FL 1991.
SCCA Driver's School
: NHIS, NH 1992.
START Kart Racing School: Orlando, FL 1994.
Russell Racing School
: Laguna Seca, CA 1995.
Bridgestone Winter Driving School
: Steamboat Springs, CO 1995.
Pittarresi Racing School
: Portland, OR 1995.
Derek Daly Racing School: Las Vegas, NV 1999.
Finish Line Racing School
: St. Augustine, FL 1999.
Jack Arute Legends School: Springfield, MA 1999
Bertil Roos Competition School
: VIR, VA 2000.
Bragg-Smith Advanced Driving School: Pahrump, NV - Level 1 2001, Level 2 2002
Skip Barber Driving School
: Lime Rock, CT 2002
Instructor:
SCCA Driver's School
, 1996-1997; Racing Clinic, 2001; PDX, 2006.
NASA Driver's School
, 2000, 2002, 2004.
Motion Dynamics Racing School
, 2000-2001.
Race Cars
BMW M3
,
BMW 733i
,
Catarham 7
, Corvette Coupe, Corvette Z06, Ford Crown Vic Police Interceptor, Formula Atlantic, Formula Dodge, Formula Dodge R/T 2000, Formula Ford 1600, Formula Mazda, F2000, Go-kart, Late Model ,
Legends Car
, Mazda Miata, Modified, Opel 1900, Panoz GTS, Porsche 911 C4,
Porsche 944
,
PT Cruiser
, Race Truck, Spec Racer Ford, Spec Racer, Sports Toyota Racer, SS Camaro, Toyota MR-2,
VW Rabbit
, Ultima GTR.
Race Tracks
BeaveRun, Bridgehampton, Dallas, Daytona, Des Moines, Donnington (UK), Gateway, Hallett, Heartland Park, Homestead, IRP, Laguna Seca, Lancaster Speedway, Las Vegas Int'l Speedway (sic), Lime Rock, Memphis Motorsports Park, Michigan Int'l Speedway, Mid-Ohio, Minneapolis, Monadnock, Mont Tremblant, Moroso, Mosport, Nelson Ledges, New Hampshire Int'l Speedway, Phoenix, Pikes Peak Int'l Raceway, Pocono, Portland, Pueblo Motorsports Park, Riverside (MA), Road America, Road Atlanta, Roebling Road, Salzburgring, Sandia Motorsports Park, Sears Point, Sebring, Spring Mountain Raceway Park, St. Augustine, St. Petersburg, Sugar Hill,
Summit Point
, Texas Motorsports Ranch, Texas World Speedway, Tulsa Speedway, Virginia Int'l Raceway, Waterford Hills, Watkins Glen.
Personal Highlights
Won final Skip Barber Formula Ford race, Sears Point, CA, 1995.
Qualified for Valvoline National Run-Offs, in Spec Racer, 1996.
5th place 24 Hours of Moroso in Spec Racer Ford, 1997, 2000.
2nd overall NARRC and NERRC, in Spec Racer Ford, 1997.
2nd place Michelin One Lap of America claimer class in BMW 733i, 1998,1999.
2nd place Car and Driver One Lap of America retro class in PT Cruiser, 2002.
1st overall NARRC and NERRC in Spec Racer Ford, 2003.
Team Highlights
All-woman Spec Racer Ford race team at 24 Hours of Moroso, 1998.
1st place ITC class at 24 Hours of Moroso, 1998, 2000.
1st and 2nd place claimer class in Michelin Car and Driver One Lap of America, 1999.